Want blemish-free, younger looking skin? Then it's time to indulge in Caci treatment at Reds.
Employees Sarah Bell and Lauren Fyall are the latest members of the team to complete an intensive four day course at the Caci Training Academy in Watford.
The pair learnt how to competently us the Caci technology – which aims to soften lines and wrinkles, tone and rejuvenate skin, and lighten stretch marks, it also targets acne and they all excelled tremendously with top marks.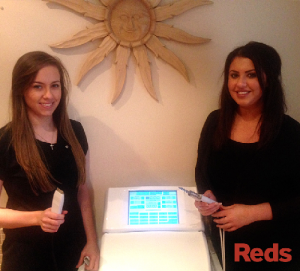 Senior therapist Sarah 26, who has worked in the salon for three year, said : "It was a fantastic experience, we really enjoyed the course. The treatments are great. It's so rewarding too see how happy clients are when they see immediate results."
Many celebrities use Caci, actress and singer Jennifer Lopez says " Caci is amazing" and it's not just for the ladies, as TV presenter Dale Winton is a fan too. He said: "I couldn't believe the difference. It lifts and firms brilliantly." To get the most from Caci treatments it is recommended 10 sessions to achieve maximum results.
A one-off session starts from £60.00 and at the moment we have a fantastic offer of a course of 10 for £300.00 for a limited time only.