TIMEwaits for no man – or woman in this case
As a female hairdresser who is currently going through the menopause I wanted to share my experiences and struggles to let you know you are not alone and everything is perfectly normal. With good advice and products you can feel as glam as you did in your 30s.
Two of the unwanted side effects of ageing for many of us is hair loss and skin problems, and wow,I am shocked at how much this affects your self esteem. A usually confident woman, I am now a hormonal tearful wreck.
Your hormones make you temperamental to the extent where everyone thinks you're crazy; the doctors try and help with medication that can potentially make your skin breakout, and then one morning you wake up, look in the mirror, and realise you've aged and your hair has lost vitality and density.
Of course, I am not advising people to avoid the doctors, they are there to help and many treatments do help a large number of women going through the change- but other things can also help.
Hair can be an expression of our personality and helps create our self image. So losing our hair can be upsetting and may make us feel less feminine. I work around mirrors all day making clients feel good and inside I am screaming at the image looking back at me (myself) thinking stop now! No more ageing. Luckily I work in the right industry and have good knowledge of both hair and beauty products to help myself – and I'm happy to share what I know.
The average age for women to go through the menopause is about 50 and going through this key stage in your life has repercussions for your hair. Many of us will find more hair in the basin when washing, while brushes fill up with loose or dislodged hair. Generally, the volume and general condition of our hair declines.
There are practical measures you can take to help stop hair loss, such as reducing your use of hair straighteners and hair dryers and improving your diet by eating more fresh fruit and vegetables.
Solutions to increase hair growth are on the market. These can take time – up to several months – to take effect and hair loss can return if they're aren't used on an ongoing basis.
A good stylist and therapist is a must. If you're a little embarrassed about having a consultation ask your stylist if they have a private area. Here at Reds we have Private/VIP rooms to ensure your privacy and feelings are always respected. Your stylist/therapist will know your hair and skin and be able to recommend the best thing for you. Sometimes a good cut can give the effect of fuller hair, failing that we have products to enhance change… thank goodness.
I use L'Oreal'sSerioxyl, and I'm happy to recommend it. Our hair grows in three stages: grows, rests and falls out. Serioxyl shampoo and conditioner preps your scalp to ensure anything coating your hair is removed. (Lots of supermarket brands have high levels of silicone that coat the hair, making it harder to penetrate the follicle so these are a must for good results.) Serioxyl night serum will encourage the hair follicle to grow when it's in the resting stage. The result is thicker, healthier looking hair.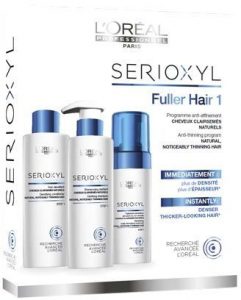 Some women will find their hair thinning all over the head, experiencing a more profound hair loss. This is known as Female Pattern Hair Loss (FPHL). Very few women, however, suffer from a complete loss of hair as some men do when they go bald. Try not to panic.
During the menopause, our skin is another area that needs extra care. My recommendation is CACI, a non surgical facelift. For me, it's a must treatment and if it's good enough for the likes of Jennifer Lopez, Kim Kardashian and Anthea Turner it can be good enough for us too.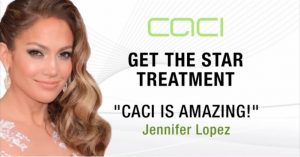 CACI is a facelift with no needles involved. It's like going to the gym and it works in exactly the same way – you work to achieve the best results and then you need to maintain them. Nothing lasts without maintenance, that goes for your skin as well.
It works your facial muscles to help lift and tighten them which then helps plumpout the skin. This helps with the anti -ageing process and reduces fine lines. Thanks to technology, CACI is now so much more than just an anti-ageing facial. The light therapy can help with unusual skin breakouts and rosacea skin tones, it can target more specific areas of concern like your jowl and eye areas as well. If you have any questions please ask your therapist about this – you will love it!
Can we stop the menopause?Absolutely not, but the good news is that there are cosmetic and medical solutions to problems asscociated with it.