Working with "The Chiropody Clinic" we are helping to put a spring back in your step!!
We've been working hard over the last year to make it a real community hub and have been listening to what customers about how we can make this a reality.
A popular request was to introduce chiropody services into the salon – so that's exactly what we're going to do!
We are excited to introduce you to The Chiropody Clinic who will help put a spring back into your step.
Their first clinic in Reds will be on Thursday, July 1st, and to make a booking, just ring our reception team on 0191 5110288.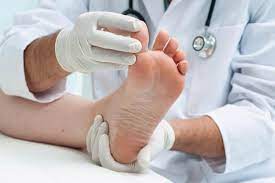 The Chiropody Clinic has provided its patients with the very best foot care can podiatry treatments since opening its doors over 20 years ago. Since then the clinic has treated a wide range of foot problems, offering friendly and professional advice to keep your feet healthy and looking their best.
Services available in Reds
Nail Care, including treatment of ingrown or pathological nails.
Callus and corn care, including debridement and enucleation
Wound care (pertaining to the feet) including referrals with other  health care professionals when required.
Diabetic foot care 
Verruca care and advice (conservative methods only)
Remember prevention is better than a cure!
Hot foot it now to make an appointment on 0191 5110288